In association with the events being held during this all-day event at The Cedars there will be a number of special exhibition displays relating to the social and daily activities of life at The Cedars during the first half of the 20th century.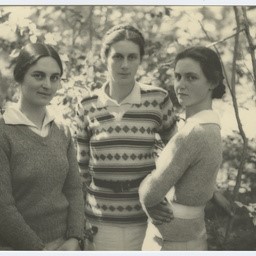 For the first time you will have the opportunity to see a selection of objects relating to Josephine Heysen, the eldest child of Hans & Sallie Heysen.
Josephine Heysen (left) with two of her sisters – Freya and Deidre, taken in the garden at The Cedars by noted Australian photographer Harold Cazneaux in 1935. This is just one of over 1500 photographs and documents recently sorted and identified in the collection of the Hans Heysen Foundation.